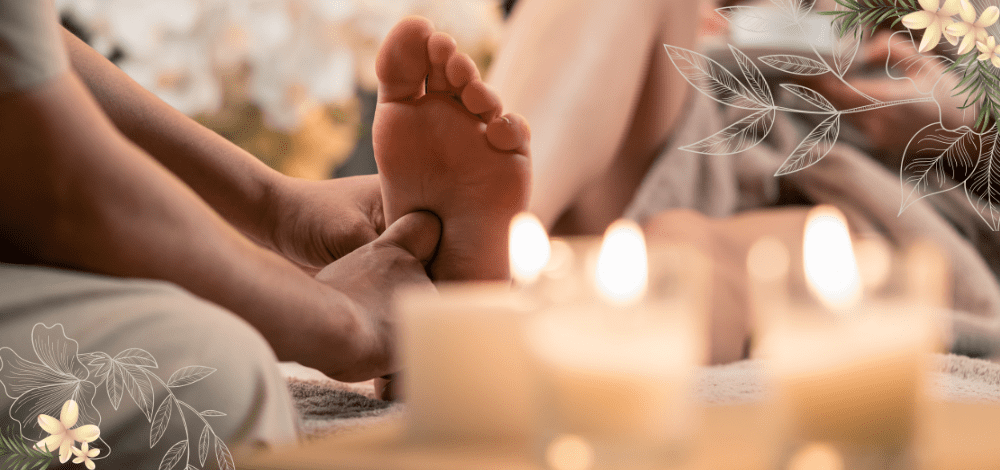 Introduction
It is no secret that we often use our feet as we head to work or go on our morning run, so they deserve some TLC, as well. If you have been on your feet all day, don't miss out on the bliss of a good massage. Not only does it keep it healthy and flexible, but it also relieves stress and tension.
With the rise of wellness products, you may have thought about buying a shiatsu foot massager to use in the comfort of your home. While these products are convenient, they can't compare to a spa treatment experience at Breeze Oriental Spa & Massage. Keep reading as we explore why investing in a professional foot massage is worth it to relax and rejuvenate your feet.
Is Buying a Shiatsu Foot Massager Worth It?
Having a foot massage device at home means you can enjoy it anytime. However, depending on your preferences and situation, it may not be ideal. Some of its drawbacks include:
Difficulty Nailing Targeted Relief – With a shiatsu foot massager, you may not achieve targeted relief in specific areas of your foot. That is because it is made to provide a general massage rather than focus on specific pressure points.
Intensity – Even the best foot massage machine can be intense, and the pressure may be too much for some people. In contrast, it may not be strong enough for others, leaving them underwhelmed.
Lack of Deep Tissue Massage – Foot massagers typically provide a surface-level massage and cannot penetrate deep tissue. This means they may not be effective for relieving chronic pain or muscle tension in the feet.
Besides, many people mistakenly think using the massager anywhere on the foot is fine. While many spots can benefit from this device, some areas should be avoided to prevent further discomfort or injury.
On top of that, when you use a foot massager often, it can be easy to overlook blood clots, manifesting as swelling. You may mistake it for soreness, causing you to use the massager further for relief. However, doing so can dislodge the clot and worsen your condition.
What Real Therapists Offer That Foot Massage Devices Don't
While foot massage devices are sometimes convenient, nothing can replace a seasoned therapist's personalized care and skill. When you turn to Breeze Oriental Spa & Massage for a shiatsu foot massage, you can enjoy the following benefits:
Expertise and Experience
An electrical shiatsu foot massager can't replicate professional therapists' years of experience and training. They understand human anatomy and physiology and know the best approaches to promote healing and relaxation. Additionally, they can tailor their treatments to meet your needs and preferences.
Empathy to the Patients
Nothing beats the power of a healing touch, an attentive ear, and kind words. Massage therapists understand that getting a foot massage is about physical contact, emotional support, and human connection. They take the time to listen, understand your concerns, and create a comfortable space for you to relax and let go of stress.
Knowledge of Possible Contraindications
A massage may be unsafe for some people, usually due to illness. For this reason, certified therapists will assess your health history and current status and identify any potential risks that may arise during the treatment.
They need to know if you have medical conditions, like diabetes and arthritis, that may affect circulation, joint mobility, and nerve function. Furthermore, therapists should be aware of any allergies to certain oils. They will use this information to see if you are a good fit for a massage and adjust their treatments to ensure your safety and comfort.
Targeted Treatments
Although a shiatsu foot massager provides rapid, targeted percussion therapy for muscle knots, a skilled therapist can do it more precisely and soothingly. They can apply the right speed, pressure, and depth to target problem areas in your foot.
More importantly, therapists offer targeted treatments for foot problems like flat feet, heel spurs, and plantar fasciitis, ensuring impeccable results.
Therapeutic Ambiance
Finally, visiting your favorite spa for a professional shiatsu foot massage allows you to enjoy a serene, therapeutic space to unplug, unwind, and surrender all your worries. Not only will your feet feel refreshed and rejuvenated, but your mind will also benefit from it.
Schedule a Shiatsu Foot Massage From Us Today
The benefits of shiatsu foot massage go far beyond relaxation and pain relief, and Breeze Oriental Spa & Massage is here to help you get the most out of it. Trained by experts from China, our staff has the knowledge and skills to provide you with holistic treatments that will leave you refreshed and revitalized. We are passionate about our craft and go the extra mile to ensure we exceed your expectations.
Furthermore, we have designed a luxurious, tranquil space that breathes new life into your mind, body, and spirit. If you are looking for a quick retreat to soothe your sore feet, we can deliver more than that. So, what are you waiting for? Indulge in the best shiatsu foot massage by Breeze Oriental Spa & Massage today!
Conclusion
Although a shiatsu foot massager can provide some relief, it's no match for the overall treatment that a real therapist can offer. On top of the massage, you can enjoy a relaxing environment, personalized attention, and access to additional services to help you better unwind and recharge.
Why settle for less when you can experience the ultimate self-care at Breeze Oriental Spa & Massage? From the healing touch of our experts to our serene haven and high-quality products, you can sink into a blissful pampering you will never forget.
Contact us today to learn more about our services. You may also browse our website for special promos and discounts. We look forward to hearing from you!